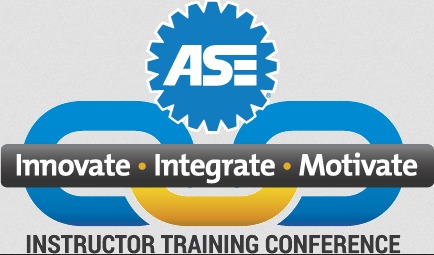 ASE Instructor Training Conference - Virtual for 2021
On a computer, laptop, tablet, or phone near you
Registrants – Click Here to View Recorded Sessions through Aug. 31st
For the 7th Annual ASE Instructor Training Conference - now VIRTUAL! Get up to 22.5 hours of technical update training, connect with industry peers, and much more!
Who: Any high school or college auto, collision, or truck instructor
When: Live sessions July 26-30, 2021, recorded sessions available through Aug. 31, 2021 for those who registered by July 30th.
Where: On any internet-connected device near you - computer, laptop, tablet, or phone
Conference Fee (this includes access to all training sessions):
$150 for instructors from ASE-accredited programs
$225 for instructors from non-accredited programs
You can pay by credit card, purchase order, or check. Instructions are in the registration form.
Take a look at the SCHEDULE!
Tentative Agenda:
Monday, July 26 through Friday July 30, 2021:
Three 90-minute sessions each day live-streamed via GoToWebinar. There will be separate tracks for Auto, Truck, and Collision Repair instructors, with more than 20 hours of training in each track. If you register by July 30th and miss a session, you will be able to view a recording through August 31, 2021.

You will receive a certificate of attendance for every session you view (live or recorded) and all sessions count toward the Foundation's 20-hour annual update training requirement.
Click here to view the Virtual Event website
Questions? ASEconference@ase.com or 703-669-6650.

Missed the last conference? Take a look at the 2019 Sessions Program!

THANK YOU to our Sponsors!
ASE * ATech Training * Advance Auto Parts * Daimler Truck * Goodheart-Willcox * Isuzu Commercial Truck * Snap-on